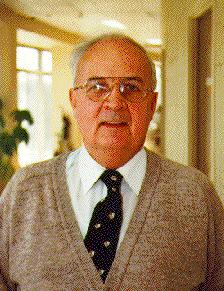 George T. Ewan
TEL: (613) 533-2698
Email: Ewan@sno.phy.Queensu.ca
Professor George Ewan ( Emeritus) current interests are in the results obtained with the Sudbury Neutrino Observatory.
He is imvolved with the analysis of the data and the calibration of the detector. Recent results are strong evidence for neutrino oscillations as solar neutrinos progress from the centre of the sun to the underground detector.
He was a founding member of the SNO collaboration and the joint-leader of the project with H.C.Chen, University of California at Irvine. He served in this position during the preparation of the proposal and until funding was received in January 1990. He was Chairman of the SNO Management Committee from 1990 to 1999.
Earlier work before SNO involved the development of Ge(Li) detectors at Chalk River with A.J.Tavendale for which they received the Radiation Industry award of the American Nuclear Society. He also built with R.L.Graham and J.S. Geiger the world's highest reolution beta-ray spectrometer. He has published more than 110 scientific papers.
CV for G.T. Ewan
(pdf)
Recent Publications
Publications for G.T. Ewan (pdf)
Other People:
---
Last revised April 4, 2007
(Mail problems/other comments to qusno@owl.phy.queensu.ca)
URL:http://www.sno.phy.queensu.ca/people/ewan.html