The Sudbury Neutrino Observatory
The Sudbury Neutrino Observatory (SNO) results have provided revolutionary insight into the properties of neutrinos and the core of the sun. The detector, shown in the artist's conception below, was built 6800 feet under ground, in VALE's Creighton mine near Sudbury, Ontario, Canada. SNO was a heavy-water Cherenkov detector designed to detect neutrinos produced by fusion reactions in the sun. It used 1000 tonnes of heavy water loaned from Atomic Energy of Canada Limited (AECL), and contained by a 12 meter diameter acrylic vessel. Neutrinos reacted with the heavy water (D2O) to produce flashes of light called Cherenkov radiation. This light was then detected by an array of 9600 photomultiplier tubes mounted on a geodesic support structure surrounding the heavy water vessel. The detector was immersed in light (normal) water within a 30 meter barrel-shaped cavity (the size of a 10 story building!) excavated from Norite rock. Located in the deepest part of the mine, the overburden of rock shielded the detector from cosmic rays. The detector laboratory, still functioning as part of the new SNOLAB facility, is extremely clean to reduce background signals from radioactive elements present in the mine dust which would otherwise hide the very weak signal from neutrinos. Plans are currently underway to upgrade the SNO detector for the new SNO+ experiment.
The first co-spokesmen for the SNO collaboration when it was established in 1984 were Professor Herb Chen from U California, Irvine and Professor George Ewan, Queen's University. For interesting accounts of the early development work for the SNO experiment, please see:
"Early Development of the Underground SNO Laboratory in Canada" and "The Funding Campaign for the Sudbury Neutrino Observatory", G.T. Ewan and W.F. Davidson, Physics in Canada, Vol. 61, No. 6 (2005), p. 339-346 and 347-350. (download in PDF format)
For a review article summarizing the three phases of the SNO experiment, please see:
"The Sudbury Neutrino Observatory", Nick Jelley, Arthur B. McDonald, and R.G. Hamish Robertson, Annu. Rev. Nucl. Part. Sci. 2009.59:431-465. (download in PDF format)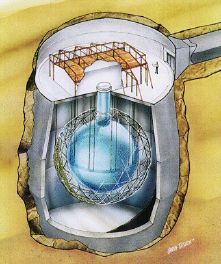 Recent News
Physics Documents
SNO Web Pages on This Site
SNO Web Sites at Participating Institutions
Present Status
May 28, 2013: SNO publishes final combined 3-phase analysis download PDF).
June 5, 2008: SNO publishes NCD-phase results (download PDF).
May 28, 2007: Heavy water completely drained from acrylic vessel.
November 28, 2006: End of data aquisition with NCD's and heavy water.
February 28, 2005: SNO publishes 391-day salt-phase results (download PDF, Postscript or figures).
January 2005: Production data taking with NCD array installed.
April 21, 2004: NCD testing and repairing is complete and the ROV is removed from the detector.
February 12, 2004: The NCD's are all installed and we begin the third phase of detector operation.
September 2003: Salt is removed from the heavy water
September 7, 2003: SNO releases Salt Phase Results.
May 2003: NCD pre-deployment welding has just been completed. NCD deployment is scheduled for August.
April 20, 2002: New scientific results released.
June 2001: SNO releases its First Scientific Results on Monday, Jun 18 at 12:15 EDT.
May 2001: Salt has been added to the heavy water to enhance the neutral current efficiency. This marks the beginning of the second phase of detector operation.
June 2000: SNO presentations at Neutrino 2000 give the current detector status.
November 1999: Detector parameters frozen. Start of production data taking.
Also see SNO Milestones for a history of SNO milestones
The Sudbury Neutrino Observatory Institute (SNOI):
SNO Project Director:

Dr. A.B. McDonald (Queen's University) The Sudbury Neutrino Observatory Institute
Department of Physics, Stirling Hall,
Queen's University at Kingston,
Kingston, Ontario, Canada
K7L 3N6

Tel: (613) 533-2702
Fax: (613) 533-6813

SNO Institute Director:

Dr. Tony Noble (Queen's University) The Sudbury Neutrino Observatory Institute
Department of Physics, Stirling Hall,
Queen's University at Kingston,
Kingston, Ontario, Canada
K7L 3N6

Tel: (613) 533-2679
Fax: (613) 533-6813

The SNO Site Project Office:

SNO Operations Control Building

VALE Creighton #9 Mine
P.O. Box 159
Lively, Ontario, Canada
P3Y 1M3

Tel: (705) 692-7000
Fax: (705) 692-7001
For general information email: snoinfo@surf.sno.laurentian.ca
URL: https://www.sno.phy.queensu.ca/sno/ (Last revised Nov 9, 2015)
(Mail problems/comments to qusno@sno.phy.queensu.ca)